STAFF

Pam Vargas, CVT, Head Technician
Empleados que hablan Español
Pam became a Veterinary Technician in 2001.  She trained at the Veterinary Technician program in County College of Morris, graduating in 2003, and earning her CVT (Certified Veterinary Technician).  She spent the next 6 years working with cats, dogs and small mammals.  In 2007 Pam brought her training and experience to us, here at Companion Animal Hospital & Avian/Exotic Clinic.  She updated her training and was able to reach her full potential.  She now has the pleasure of working with many new species of pets.  She is especially fond of birds. Pam has a true love for the work that she does, and enjoys making sure her patients needs are met.  She and her husband have three cats and one dog, and foresee more pets in their future.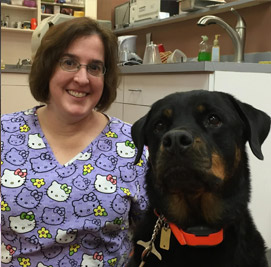 Susan Leach, ACO, Veterinary Assistant
Susan joined our team in 2013 after a 16 year career as a professional pet sitter. She has an Associate's degree in Criminal Justice and is a NJ Certified Animal Control Officer. Susan enjoys spending time with her best friend, Tooz, a German Shepherd Dog with whom she has earned multiple performance titles. She also has 3 cats, Jerry, Saki, and Wrinkle.  For as long as she can remember, Susan has loved animals and cherishes the deep bonds we form with them.

Joanne Watkins, CVT, Veterinary Technician
Joanne graduated with an Associated Degree in Veterinary Technology from Sussex County Community College and a Bachelors of Science in Biology and Psychology from Rutgers University. She is a licensed veterinary technician and has worked with us at Companion Animal Hospital & Avian/Exotic Clinic since 2001. Joanne is a highly skilled & experienced technician with a meticulous nature, and top notch medical skills.
She enjoys spending time outdoors and dog training, and has enjoyed training and caring for top performing Portuguese water dogs, and Newfoundlands over the years.
973-227-7500
Call us to schedule an appointment